How do you design and install LED DALI dimming system and Small DALI dimming system?
DALI LAMP: Digital Addressable Lighting Interface LAMP. Buy dali compatible lights from online store. DALI Control system is a complete building-wide digital lighting control system built on the DALI, Digital Addressable Lighting Interface and Ethernet international standards. DALI compatible lights, DALI bus cable DALI track, DALI Lamp, DALI LED lights, DALI LED downlights, DALI Dimmer, RS-232, RS-485 controller lights, DALI LED Lights, DALI Dimmable fluorescent lights, Digital addressable lighting interface, Microcontrolled ballast, Microcontrolled lamps, Hall lighting system, Sports Hall lighting system, Recessed Commercial Light fixtures DALI led downlights, Banquet Hall lighting, theater lighting system, theater lighting equipment, theater lighting design, living room lighting.
THE DALI PROTOCOL

Why should I use a DALI system instead of products based on a proprietary protocol?

DALI is an open standard that provides assurance of interchangeability across vendors, enables sharing of advanced product features across manufacturers, puts the designer in a position of gaining lower costs through competition, and assures future availability.

GENERAL

Is it true that DALI dimming systems are specifically geared to large projects?

Digital lighting control systems are suitable for small, medium and large projects. Below image show you a small DALI LED lighting system. On our online store, The simplest of DALI lighting systems Small DALI dimming system DALI Intelligent dimmable IR remote, Small DALI dimming system DALI Intelligent Phone app Bluetooth consists of a 16V DC power supply, DALI dimmer switch, a DALI-compatible scene select station, and a DALI-compatible digital ballast. From there, additional components can be added to this simple energy management platform, such as occupancy sensors and photosensors. The system could form a network controlled by a central computer for scheduling, with occupant overrides. For large installations of whole floors, whole buildings or multiple buildings, DALI buses can be networked together.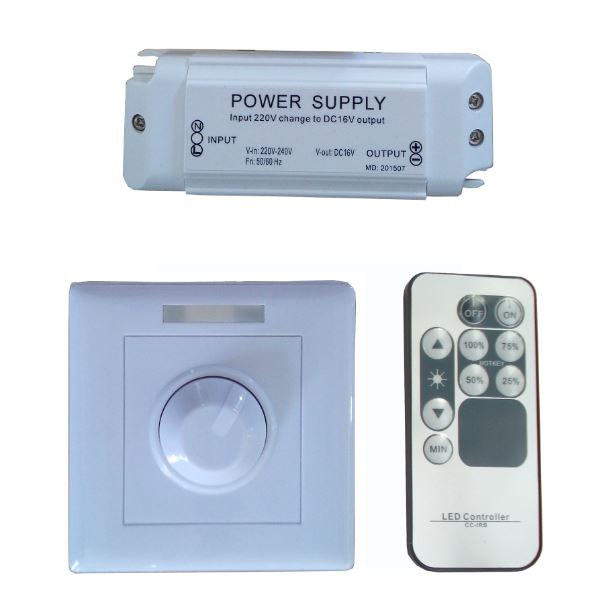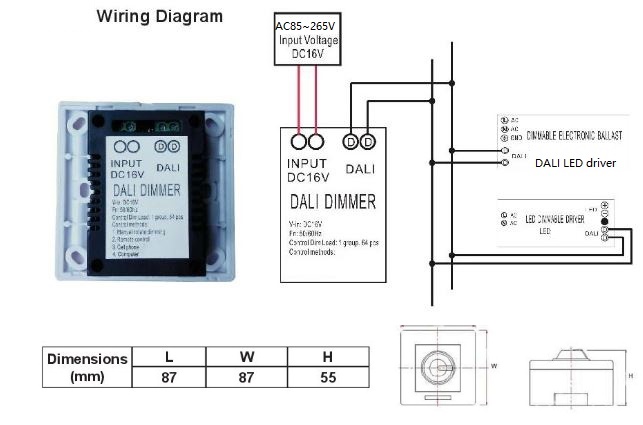 Is it true that DALI systems are very expensive?

Fluorescent dimming presents a higher cost than other control strategies such as scheduling an entire building's lights to switch to shut off at a desired time. You also gain more flexibility, the ability to conduct load shedding without turning off the lights, and other benefits such as lamp/ballast maintenance reporting. If fluorescent dimming is selected as a control strategy, the next choice is whether to use analog or digital. Most analog systems are 0-10VDC systems, which require low-voltage control wires for communication. Compared to 0-10VDC systems, digital dimming systems can present a higher component cost, primarily due to addition of the power supply and router. If a gateway is required for integration with a building automation system, cost increases. However, compared to 0-10VDC systems, significant labor savings can be achieved with a digital system that can more than offset the added component cost. The result is that DALI-based digital systems often present a lower installed cost than 0-10VDC systems. Below image show you a popular LED DALI dimming system. On our online store, We supply All components of DALI light system included DALI compatible lights, DALI bus cable DALI track, Controller System DALI control panel, DALI DMX512 Signal Converter, DALI to DC dimmer conver, DALI control panel, DIN dali 0-10v converter, DALI PIR sensor and dali lux sensor light Sensor Application for DALI light system that auto adjustable light lux.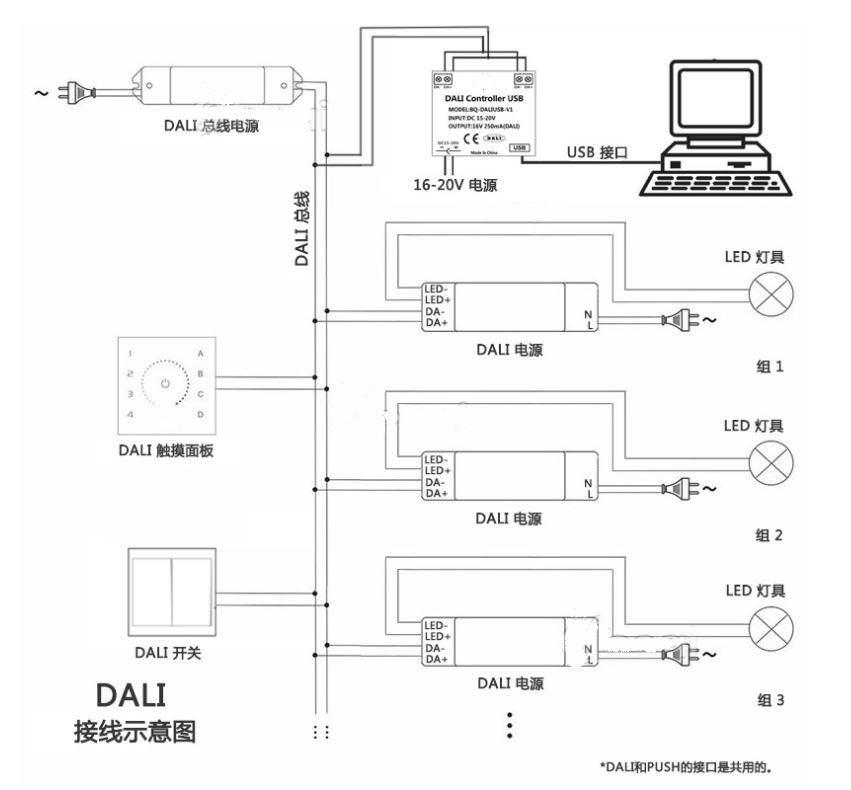 What is a loop?

In a digital dimming system, a single set of control wires form a low-voltage control bus. The term "loop" is often used interchangeably with the term "bus," but the DALI protocol actually prohibits loops. By IEEE definition, DALI is a bus that can be installed in a daisy-chain, star or tree configuration.

Compatible ballasts and controls, up to a total of 64 devices (or 251mA)—with each ballast having its own unique stored address—connect to the bus via DALI bus cable in order to provide control signal interaction. For larger installations, multiple buses can be networked to proper scale. The control bus provides two-way communication; ballasts can both receive commands and respond with feedback.


Why should building professionals choose digital control and DALI?

According to David Peterson of Watt Stopper/Legrand, "The motivations will depend on the role of the professional … For instance, a building owner will be attracted by the reduced costs; reconfiguring a space will be far less costly using DALI. This is an important consideration when you realize that the average office space is leased for only seven years. Tenants and users will value the flexibility a DALI system can give them in accommodating their specific needs. Engineers will also find the flexibility DALI gives them to be an asset. And all of these professionals will recognize the importance of a system that can provide these benefits along with the added potential of more effective energy management." (AutomatedBuildings.com interview, June 2003.)


What are the most suitable applications for DALI?

According to David Peterson of Watt Stopper/Legrand, "Every type of lighting control technology and product has optimal applications as well as ones where the result is less ideal. With that in mind, I would say that the greatest potential for DALI is in those spaces with multiple uses and areas where lighting levels and configurations are likely to change over time. Conference rooms, classrooms, and lecture rooms are good examples. Each can take advantage of DALI's flexibility and multiple scene control. Using a stand-alone wall-box controller in a lecture hall, for instance, a speaker can push a 100% scene button. For an A/V presentation, the same lecturer can push the 'A/V' scene button and the lighting will fade to a lower level, with some fixtures completely off and some at a lower output so students can still see enough to take notes. The reduced cost of installation as well as the simplicity of DALI may make dimming control particularly appealing for smaller conference and meeting rooms and private offices, where it might not otherwise be considered … There are also some broad functions that DALI is especially well suited for, such as demand reduction, load shedding and daylighting … In the area of daylighting, DALI offers the ability to truly integrate lighting fixture by fixture with daylighting controls to achieve a pleasing lighting distribution throughout the space. Up to now, this has been [difficult] to achieve because it requires programming the response of specific fixtures depending on their location within a space relative to the daylight source while also providing for the unique needs of each occupant. DALI technology will make this customized control practical, as DALI-compatible daylighting control devices continue to be developed in this realm."

BALLASTS AND CONTROLS

What ballast and lamp types are covered by DALI?

DALI-compatible digital ballasts are 120/277V fluorescent dimmable programmed-start rapid-start electronic ballasts currently available in one-, two-, three- and four-lamp models for T8 lamps; and one- and two-lamp models for compact fluorescent, T5 and T5 HO lamps. DALI-compatible digital controls can also provide precise dimming of 12V and 120V incandescent lamps.

What is the dimming range for DALI ballasts?

Digital ballasts are available that provide a dimming range of 100% to 1% for linear fluorescent lamps, 100% to 3% for compact fluorescent lamps and 100% to 0.1% for incandescent lamps, utilizing a logarithmic dimming curve. The inverse-square dimming curve is used for better control of the lighting intensity in response to the human perception of brightness. Digital ballasts can start the lamp at any desired dimmed level.

DESIGN & OPERATION

Is it true that a computer is required to operate a DALI system?

No. A computer is not required for a basic DALI lighting control installation. A computer would be required to implement the status monitoring features of DALI and it provides an easy means to modifying the system settings. Click here to see diagram for simple system, which will open as a new window on your web browser.

Can a DALI system be integrated with a building automation system?

According to Stuart Berjansky of Advance, "Each DALI system can control up to 64 ballasts, each of which is individually addressable. Via a DALI [bus], ballasts are connected with standard building wire to a DALI controller, which can be connected to other controllers for centralized control of larger areas. The DALI system can then be either a stand-alone subsystem or a pure subsystem to the Building Management System. In the stand-alone scenario, only the most important information will be sent to the BMS. With a pure subsystem, the DALI system communicates bi-directionally via a gateway or transmitter and is an integral piece of the BMS. The gateway is connected to the low-voltage DALI cables on one side and to the BMS network bus on the other." (AutomatedBuildings.com interview, September 2002.)


DALI systems enable personal dimming control for occupants. Why should occupants be given personal control?

Studies indicate that office workers have a wide range of light level preferences, and feel they would be more satisfied if they had control over their lighting. However, lighting systems are typically designed as fixed-output systems, a one-size-fits-all approach. Personal dimming control allows occupants to choose their own light levels. One office lighting field study, conducted by the Light Right Consortium, revealed that office workers were more satisfied, vigilant and motivated with an indirect lighting/wall washing scheme with personal dimming control than with standard parabolic fixtures.

Why is DALI particularly advantageous for daylight harvesting projects?

Daylight harvesting entails switching or dimming lighting systems in response to available daylight in a space. However, the amount of daylight varies according to distance from the daylight aperture. As a result, dimming the light fixtures around a daylight aperture together can result in some spaces having a higher or lower light level than required. To address this, a higher degree of granularity is required. Designers may set up fixtures adjacent to a window, for example, on parallel circuits so that the fixtures closest to the window are controlled separately from the next farthest row, and so on. This strategy maximizes energy savings and assures the right amount of light. With a DALI-based control system, each ballast or fixture can be designated as its own control zone, up to 16 zones. The granularity of the lighting is therefore limited only by this number and the number of photosensors the designer wishes to add. Higher granularity delivers the potential for even greater energy savings and assurance of proper light levels.


WIRING & INSTALLATION

How are digital ballasts wired into the lighting system?

Digital ballasts can be wired into the lighting system DALI bus cable DALI track using Class 1 or Class 2 methods, according to the National Electrical Code (NEC). Digital ballasts DALI bus cable DALI track may use a Class 1-rated 5-conductor cable that uses one hot (live), one neutral, one ground and two polarity-insensitive control wires, all routed together in the same conduit. It is also possible to install the ballasts and controls as a Class 2 installation, in which case the DALI bus cable DALI track control wires must be routed through separate conduit as the power wires. Check with the ballast and controls manufacturers to determine whether their products are UL-listed for Class 1 installation.


How does the DALI bus cable DALI track wiring of a DALI dimming system compare to the wiring of a 0-10V dimming system?

According to Jim Yorgey of Lutron Electronics, "The difference between the DALI system and the 0-10V DC system is that with DALI you can turn any ballast (or group of ballasts) ON/OFF or DIM without rewiring the circuits. With 0-10 VDC, the ballasts must be wired together with control wires, then the controller only dims, it does not turn the lights on or off. You would have to re-wire the power to match the dimming circuits to get the on/off function." Click here to see an explanatory diagram.


What benefits does two-way communication provide?

In a 0-10VDC dimming system, control signals are one-way between the controller and the ballast—i.e., from the controller to the ballast. In a DALI system, signal traffic is two-way, meaning ballasts can be commanded to perform requested actions, such as switch ON/OFF or DIM, but can also be queried to provide information about their status. The digital ballast can be queried, for example, about intensity, which provides information about energy consumption. This information in turn can be used for energy savings verification, benchmarking and tenant or department billing. The digital ballast can also be queried about lamp and ballast status, which provides information about whether the ballast and its connected lamps are still operating. This information in turn can be used by facilities departments to improve customer service and make their lighting maintenance operations more efficient.


STARTUP AND COMMISSIONING

What is involved in commissioning or starting up a DALI system?

Digital control requires programming when centralized systems are used, and all systems on-site field commissioning, which should be factored into the design specification so that the appropriate party is aware and can bid on this portion of the installation. During the start-up phase, a database of ballast addresses, with physical locations and the control device that operates them, needs to be created and then maintained when the layout of the space changes. It may be advisable to involve the client's IT staff in the creation and maintenance of the database.
DALI Hotel emergency lighting, Hospital emergency lamp system.
Digital Addressable Lighting Interface for fluorescent tube lighting
The DALI (Digital Addressable Lighting Interface) protocol has set forth the requirements for a digital fluorescent ballast that out performs its predecessors with respect to flexibility and functionality. The advantages of a DALI lighting control system range from advanced dimming capabilities and daylight sensing to saving money in energy and maintenance costs. A DALI lighting control system can also be beneficial to designers when trying to meet the requirements of code or recommended practices. The information in this report will help designers decide when to consider using a DALI lighting control system. This report covers topics such as the advantages of digitally addressable lighting, the equipment required to make a DALI system work, the limitations and drawbacks of DALI, cost information on installing and using a DALI system, and how DALI can help meet code and recommended practices, and concludes with a case study demonstrating how a DALI system has the potential to save money in energy costs.
Digital Addressable Lighting Interface for LED lighting
We accept customized design Digital Addressable Lighting Interface for LED lighting. Microcontroller for lighting, MCU controlled lighting. This circuit shows how to work of the Dali LED lighting. DALI LED downlights, dali led panel lights, DALI floodlight, DALI LED lights, DALI LED lighting, DALI LED dimmer. Digital Addressable Lighting Interface for LED lighting. DALI LED lights driver, Dimmable LED driver. DALI LED Lights. DALI LED Lighting, dali dimming system.

This photo shows example how to use DALI bus cable DALI track, Just 5 wires as a bus in Premises Distribution System. Than all the bulbs connected on this bus can be controlled by one Microcontroller equipment, No many switch, No much wire, And it is easy automatic controlling. Hall lighting system, Sports Hall lighting system, Banquet Hall lighting, theater lighting system, theater lighting equipment, theater lighting design, living room lighting ideas, living room lighting designs.
Welcome to buy DALI LED downlights, DALI LED dimme from our website for DALI Dimming Solutions: DALI compatible lights, DALI LED downlights, Small DALI dimming system DALI Intelligent dimmable IR remote, Small DALI dimming system DALI Intelligent Phone app Bluetooth, DALI bus cable DALI track, dali led panel lights, DALI floodlight, DALI LED lights, DALI LED lighting, DALI LED dimmer. Digital Addressable Lighting Interface for LED lighting. DALI LED lights driver, Dimmable LED driver. DALI LED Lights. DALI LED Lighting, dali dimming system. All CONNECTOR of DALI 1-CIRCUIT TRACK, 1 Circuit Dali - Track Accessories: MIDDLE CONNECTOR DALI 1-CIRCUIT, MIDDLE I type CONNECTOR DALI 1-CIRCUIT, L CONNECTOR DALI 1-CIRCUIT, T CONNECTOR DALI 1-CIRCUIT, FLEXIBLE L CONNECTOR DALI 1-CIRCUIT, 90 degree adjustable L CONNECTOR DALI 1-CIRCUIT, X CONNECTOR DALI 1-CIRCUIT, End cap + Adaptor connector DALI 1-CIRCUIT, Hanging rope. 1 Circuit Dali Track Adapter, 1 circuit DALI track lamp connectors, track adapter, track lighting pendant, track pendant adapter, track lighting adapter, track lighting chandelier adapter, convert pendant to track light