How to use
LED T8 and LED T10 - Fluorescent Tube LED Replacement
(Here description will tell you how to use led fluorescent tube, LED Fluorescent Tubes, LED Fluorescent Fixture, Fluorescent LED Bulbs, Fluorescent LED Lighting, LED Fluorescent T8 Bulbs, LED Fluorescent, LED Fluorescent Light Bulbs, LED Fluorescent Light Replace)
1. Remove fluorescent tube from lamp;
2. Remove the ballast and starter if it has. Note that: The LED tube can not directly replace the fluorescent tube before remove the ballast and starter.
3. Remove the wire and install the LED replacement tube and connect as below circuit.
4. Rotate the tube lightly and make the illumination angle is good.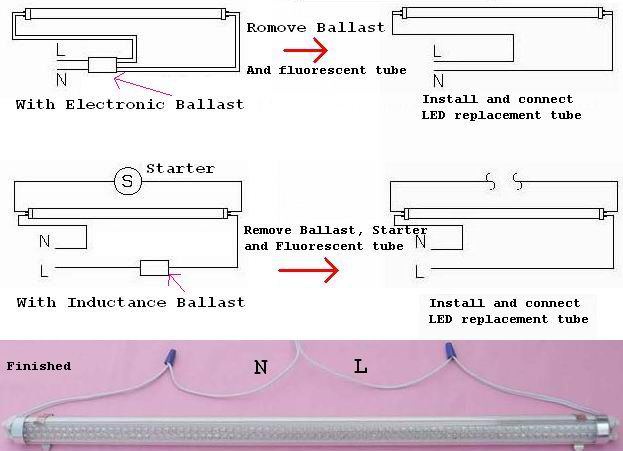 Same ETL approval LED Fluorescent Light Bulbs, The L-N is connected in one side prong, This led fluorescent tubes can not connect mains voltage directly into fluorescent 2 prong, The mains voltage must be connected on one side prong bi-pins, One pin connect to L, Another pin connect to N. Another side prong just as a holder. The following draw is showing how to use ETL standard LED tube replace fluorescent tube.