Dimmable LED Light bulbs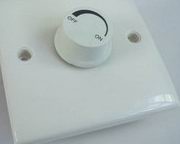 Welcome Shop LED Lights from our LED Online store. Here is dimmable led light bulbs. Nearly all dimmer commonly mounted in the wall or for desk lamp are using Triac dimming. The Triac dimmer can work perfectly with the incandescent light bulb. But for work on led bulbs, The led lighting must be special design. See How do you choose dimmable LED light bulbs?
Please note that: LED light bulbs isn't resistive load, Nothing dimmable LED Light bulbs can suitable for all kinds dimmer which use for incandescent bulb. Because incandescent bulb is resistive load. So when you choose dimmable led light bulbs, Be sure know that what kind dimmer are used in your lamp fixture. If you choose led light bulbs isn't for old dimmable lamp fixture replacement, I recommed that you buy led light bulbs with remote controller, Almost all remote controller is dimmable.
Below catalogue dimmable led light bulbs works on traditional dimmer which commonly mounted in the wall or for desk lamp.
DC Dimmable led bulbs, PWM Dimmable led lights for vehicles, Boats, Marine and Aircrafts operate numerous panel lights and convenience lights


110V/120V Dimmable led bulbs


220V, 230V Dimmable LED bulbs


DC Dimmable LED bulbs DC dimmer


12V, 24V Triac Dimmable LED bulb


AC85V~265V Dimmable LED bulbs
New Products For June - Dimmable LED Light bulbs
Your IP Address is: 44.192.47.87