Dimmable led bulb phase dimming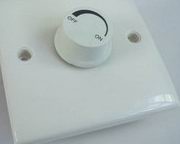 A dimmable light bulb means that the brightness can be controlled. Dimmable LED bulbs work in a similar way. As you use the bulb more, the brightness will rise. These bulbs are ideal for areas that require moderate light, but not a full-on brightening bulb.
Non-dimmable LED bulbs are not equipped with a dimming switch. These bulbs are difficult to adjust because they emit a constant level in brightness.
Dimmable bulbs use a dimmable switch to regulate the light output. There are many sizes and shapes of dimmable led bulbs. They typically have both a traditional filament light bulb and an LED diode inside. They are both environmentally friendly and energy-efficient, since they don't require a filament bulb with a switch to reduce the light output. They also come in many colors, and can be used for a variety applications such as ambient lighting or signage.
Dimmable led bulbs can be controlled by a dimmer switch, which allows them to provide precise light levels. This applies to areas like reading rooms, nurseries, and kitchens where the light level may need to be adjusted according the time of day or activity.
What are the benefits of dimmable led lamps?
Dimmable led bulbs are more energy efficient than traditional incandescent bulbs. Dimmable led bulbs consume less energy to produce the same amount light.
Second, they are more environmentallyfriendly. They produce less heat than traditional incandescent bulbs. This means that they consume less energy to heat up, and produce less greenhouse gas emissions.
Dimmable led bulbs are also more durable. Dimmable led bulbs last longer than traditional incandescent bulbs. They are less likely to break if dropped.
Dimmable, phase dimming, and dimming DC LED lights. This catalog is for dimmable LED light bulbs . Triac dimming is used by nearly all dimmer that are commonly mounted on a wall or desk lamp. Triac dimmers can be used in conjunction with an incandescent lightbulb. However, led bulbs require special design. How to choose dimmable LED lightbulbs?
Please be aware that LED light bulbs are not resistive load. Incandescent bulbs have a resistive load. When choosing dimmable led bulbs, make sure you know what type of dimmer is used in the lamp fixture. I recommend that you purchase led light bulbs with remote control if you are looking for an old dimmable lamp replacement.
The following catalogue dimmable led lights works with traditional dimmer, which are commonly mounted on the wall or used as a desk lamp.
For application to vehicles, boats, marine and aircrafts there are many panel lights and convenience lamps, Bettery powered LED lights for DC dimmer, See here link Dimmable LED Bulbs, PWM Dimmable Led Lights
Your IP Address is: 44.197.101.251